ĐIỂM NỖI BẬT
Bộ vi xử lý: 10th Intel® Core™ i7 10510u (8 x 1.8Ghz Turbo 4.9GHz, Cache 8MB)
Bộ nhớ: 16Gb PC4-3200 memory
Ổ đĩa: 512Gb SSD NVMe PCIe
Màn hình: 15.6″ FHD (1920 x 1080), diagonal, IPS, anti-glare, 250 nits, 45% NTSC
Card đồ hoạ: Integrated Intel® UHD Graphics
Pin: HP Long Life 3-cell, 56 Wh Li-ion
Màu: Xám
Trọng lượng: 1.7 kg (3.74 lb)
HĐH: Windows® 10 Pro 64-bit License
Tình trạng: New 100% Fullbox - Hàng nhập khẩu chính hãng từ USA
Tặng kèm: Túi xách + Mouse Wireless
Hỗ Trợ Kỹ Thuật, Cài Đặt Phần Mềm và Vệ Sinh Máy Miễn Phí Trọn Đời
MÔ TẢ SẢN PHẨM
HP ZBook Firefly 15 G7 chiếc Laptop di dộng nhẹ và mỏng nhất tính về dòng máy trạm của HP. Công dụng hiệu suất của máy hoạt động cho doanh nghiệp rất hiệu quả và chuyên nghiệp với bàn phím số kích thước đầy đủ, chiếc mày có thể hỗ trợ quản lý doanh nghiệp hoặc dự án mọi lúc mọi nơi bởi tính di động gọn nhẹ của chiếc máy này. ...
Với Wifi nhanh gấp 3 lần, 4G LTE gigabit và thời lượng pin tốt qua đó bạn có thể quản lý nó khi đang di chuyển, và màn hình bảo mật HP SureView bảo vệ thông tin ca nhân khỏi những ảnh mắt tò mò.
Hiệu suất chuyên nghiệp của HP ZBook Firefly 15 G7 cung cấp năng lượng cho các dự án công việc năng qua bộ xử lý Intel core mới nhất và card đồ hoạ NVIDIA Quadro® được chứng nhận cho các ứng dụng chuyên nghiệp, mở tệp lớn và chạy các ứng dụng một cách đa nhanh chóng và hiệu quả.
THIẾT KẾ
HP ra mắt máy trạm ZBook Firefly 15 G7 với lớp vỏ ngoài hoàn toàn mới. Thay đổi đầu tiên có thể nhìn thấy rộng rãi là logo ZBook trên nắp màn hình, một chữ Z cách điệu. về viền màng hình mỏng hơn nhiều so với người tiền nhiệm khung LCD đen giống bàn phím phần còn lại của vỏ máy màu xám đen.
Các phím chiclet vuông, phẳng có đèn nền hai tầng phù hợp cho chiếc máy tính xách tay hiện đại. Nhìn chung rất dễ chịu khi gõ bàn phím. Không quá cứng cũng không quá mềm, bàn phím rất thích hợp đánh máy thường xuyên và năng suất.
Khung viềng của ZBook Firefly 15 G7 đều được HP làm chung một nguyên liệu nhôm, sự ổn định ở mức rất cao. Bản lề rộng tạo cảm giác cầm nắm chắc chắn vào màn hình, màn hình có thể mở bằng một tay với góc tối đa 165 độ.
HIỆU NĂNG ẤN TƯỢNG
Có sẵn lựa chọn các CPU Intel Comet Lake khác nhau, bao gồm bốn bộ xử lý 4 nhân (Core i5-10210U, i5-10310U, i7-10510U, i7-10610U) cũng như hai CPU 6 nhân (Core i7-10710U và i7-10810U). Đồ họa Intel UHD 620 luôn được tích hợp; Ngoài ra, Nvidia Quadro P520 được bao gồm trong tất cả các cấu hình.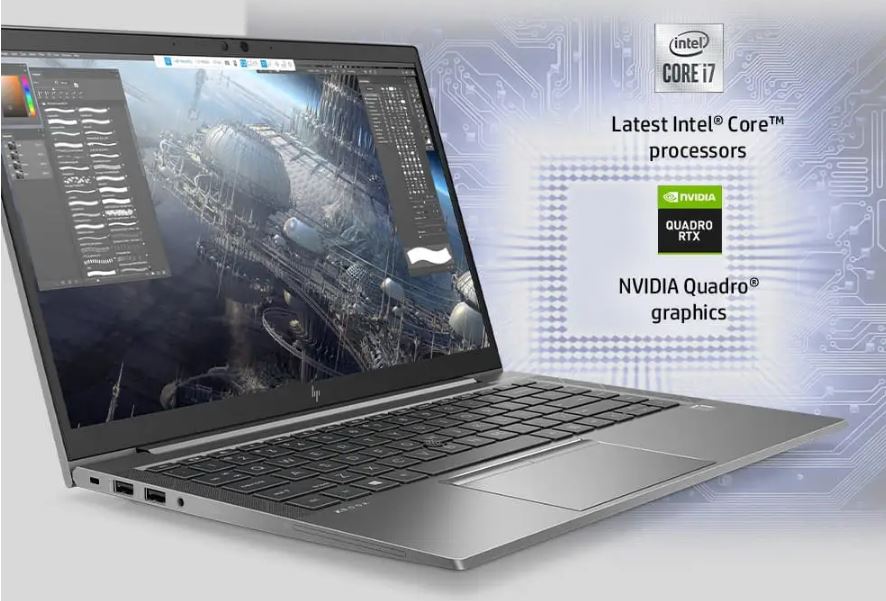 HP ZBook Firefly 15 G7 có bộ xử lý Intel Core i7-10610U Ultra-Low-Voltage (ULV) xử lý nhanh nhất trong "Comet Lake" series. Bốn nhân Skylake có tốc độ xung nhịp lên đến 4.9GHz. Hệ thống làm mát của HP ZBook Firefly 15 G7 đủ mạnh để giữ mức tiêu thụ CPU trong vòng lặp Cinebench ổn định ở mức 25 watt, đưa xung nhịp CPU lên 3GHz.
HP ZBook Firefly 15 G7 tùy chọn sử dụng card đồ hoạ Nvidia Quadro P520 qua đó giúp hỗ trợ chạy nhanh hơn trong ứng dụng đồ họa và đa nhiệm phần mềm khác.
CỔNG KẾT NỐI
Được bố trí cổng kết nối đa dạng đáp ứng mọi công việc của người dùng : 2x Thunderbolt 3, HDMI, USB-A 3.1 Gen 1, nguồn điện, Khóa Kensington, USB-A 3.1 Gen 1, âm thanh kết hợp, đầu đọc thẻ thông minh
Tags: Laptop USA HP laptop HP ZBook ZBook Firefly Firefly 15 G7
TECH SPECS
Processor
10th Generation Intel® Core™ i7-10510U (1.8 GHz base frequency, up to 4.9 GHz with Intel® Turbo Boost Technology, 8 MB L3 cache, 4 cores)
Operating System
Windows 10 Pro 64
Memory
16 GB DDR4-2666 SDRAM (1 x 16 GB) - 2 SODIMM; supports dual channel
Storage
512GB SSD NVMe PCIe - Up to 1 TB PCIe® NVMe™ TLC SSD
Monitor
WIDE 15.6 inch (39.62 cm) diagonal FHD IPS anti-glare WLED-backlit, 250 nits, 45% NTSC (1920 x 1080)
Graphics
Intel® UHD Graphics; OPTION: Both UMA & Discrete configurations support 3 independent displays when on the HP UltraSlim Dock (sold separately) - Max. resolution = 2.5K @60Hz (DP1) & 2.5K @60Hz (DP2) & FHD (VGA), and support 3 independent displays when on the HP Thunderbolt Dock G2 (sold separately) - Max. resolution = 2.5K @60Hz (DP1) & 2.5K @60Hz (DP2) & FHD (VGA) OR 4K @60Hz (one DP Port) & 4K @60Hz (Type-C output port using a Type C-to-DP adapter). [32] HDMI cable Sold Separately.
Webcam
720p HD webcam; 720p HD and IR webcam
Audio
Audio by Bang & Olufsen, dual stereo speakers, HP World Facing Microphone dual array digital microphone, functions keys for volume up and down, combo microphone/headphone jack, HD audio
Ports/Slots
1 headphone/microphone combo; 1 USB 3.1 Gen 1 (charging); 1 power connector; 1 HDMI 1.4b; 2 USB Type-C™ (Thunderbolt™ 3); 1 smart card reader
Connectivity
Intel Wi-Fi 6 AX201 (2×2) and Bluetooth 5 combo, vPro/non-vPro; Intel XMM 7560 LTE-Advanced Pro Cat 16
Keyboard
HP Collaboration Keyboard, full-size, spill-resistant, backlit, with drain and DuraKeys, clickpad with image sensor and glass surface, multi-touch gestures and taps enabled; Dual pointstick; Clickpad with multi-touch gestures enabled, taps enabled as default; Microsoft Precision Touchpad Default Gestures Support
Battery
HP Long Life 3-cell, 56 Wh Li-ion; Supports fast charging
AC Adapter
HP Smart 65 W EM External AC Power Adapter; ENERGY STAR® certified; Environmental Low halogen
Dimensions
35.95 x 23.36 x 1.92 cm (W x D x H); Starting at 1.75 kg
NOTES
Warranty
3 years standard parts, labour and on-site limited warranty, depending on country (upgrades available), 1 year limited warranty on primary battery.